Neos II 13 K ac
Technical characteristics
Model: Neos II 13 K ac
Capacity: 1300 kg
Lifting: 7500 mm
Use: Inside
Description
Reach truck with compact dimensions to work in narrow aisles, the ideal solution for drive-in warehouses. Its chassis only 1.150 mm wide retains the ergonomic features and comfort of the Neos series. The driving place is ergonomic and spacious although the reduced frame dimension. Possibility of assembling side guide rollers for guide aisles.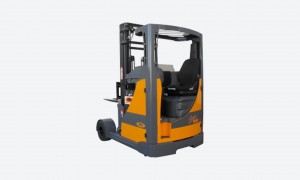 Reach Trucks
Technical characteristics
Model: Neos II 16 SE ac Capacity: 1600 kg Lifting: 8250 mm Use: Outside
Description
The reach truck with superelastic tires is a revolutionary machine. It is designed to do the work of a traditional forklift truck while maintaining the functions, the characteristics and the compact dimensions of a reach truck. The superelastic wheels (drive and load) with big dimensions (18x7-8), and the electric power steering with dedicated motor for safe, precise and noiseless operation grant to overpass the floor irregularities which are usually a limitation for this category of products. The operator's living is ergonomic and comfortable thanks to suspended seat with different adjustments, adjustable steering wheel in depth and the easy access to each control ensure high comfort and more productivity.
Technical specifications