720 K ac
Technical characteristics
Model: 720 K ac
Capacity: 1650 kg
Lifting: 5400 mm
Use: Inside
Description
The "heavy" version of pallet stackers has been particularly projected for special applications. Lifting heights available from 1.650 mm to 5.400 mm and more on request, its strong structure ensuring the maximum reliability also in the extreme conditions (for industrial applications. The standard battery (24V 345Ah) grants an optimum autonomy for extended applications.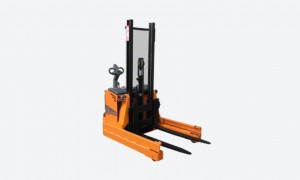 Pallet stackers pedestrian controlled
Technical Characteristics
Model: 716 BLK-R Capacity: 1600 kg Lifting: 3600 mm Use: Inside
Description
Pedestrian counterbalanced stacker with FEM forks. The application of the retractable mast ensures narrow working aisles with loads which can not be stacked by a traditional wrap over fork stacker. The different options available as the tilting on forks holder plate "tilting forks" and the integral side-shift make this stacker as a small and versatile reach truck. Lifting heights available from 1.650 mm to 3.600 mm.
TECHNICAL SPESIFICATIONS