MODUS FS ac
Technical characteristics
Model: MODUS FS ac
Capacity: 1300 kg
Lifting: 4650 mm
Use: Inside
Description
Counter balanced pallet stacker with seated operator with Fem forks to handle special loads on long distances. Transversal electric servo steering allowing high manoeuvre visibility on both traction directions. Strong structure ensuring the maximum reliability also in the extreme conditions (for industrial applications). New technology mono bloc chassis. Thanks to its manoeuvrability and compact dimensions, it can be used in all commercial fields. Lifting heights available from 1.650 mm to 4.650 mm.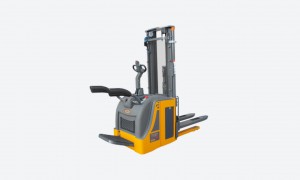 Low lift and pallet stackers with ride-on operator
Technical characteristics
Model: 716 P ac Capacity: 1600 kg Lifting: 5310 mm Use: Inside
Description
Rider pallet stacker with flip down platform. Powerful motor enabling high level performance and quick displacements. Suitable for horizontal handling over longer ranges. High capacity battery ensures a good working autonomy. Full-free-view mast lifting from 1.650 mm up to 5.400 mm.
Technical specifications