320 P5 ac – 325 P5 ac
Technical characteristics
Model: 320 P5 ac – 325 P5 ac
Capacity: 2500 kg
Lifting: 120 mm
Use: Inside
Description
Power pallet truck with ride-on operator designed ad projected with the new ac technology which allows to optimize the energy saving, the performances and the efficiency thanks to compact dimensions which improve the manoeuvrability and the working operations in narrow spaces.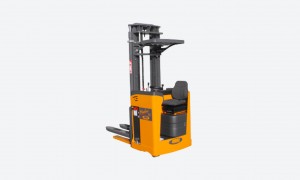 Low lift and pallet stackers with ride-on operator
Technical characteristics
Model: MODUS US ac Capacity: 1500 kg Lifting: 5400 mm Use: Inside
Description
Sit on rider wrap over fork stacker. The separate excitation traction motor grants elevated performances and movements. Perfect for the horizontal and vertical handling on longer ranges. The high battery capacity ensures good working autonomy. Full-free-view mast lifting from 1.650 mm to 5.400 mm. Thanks to its manoeuvrability and compact dimensions, it can be used in all commercial fields.
Technical specifications