716 P ac
Technical characteristics
Model: 716 P ac
Capacity: 1600 kg
Lifting: 5310 mm
Use: Inside
Description
Rider pallet stacker with flip down platform. Powerful motor enabling high level performance and quick displacements. Suitable for horizontal handling over longer ranges. High capacity battery ensures a good working autonomy. Full-free-view mast lifting from 1.650 mm up to 5.400 mm.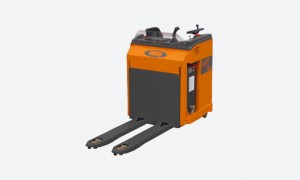 Low lift and pallet stackers with ride-on operator
Technical characteristics Model: VIRTUS 30 R ac Capacity: 3000 kg Lifting: 120 mm Use: Inside Description Low lift power pallet truck with ride-on operator. Transversal electrical servo steering, multifunctions joystick checking all the controls. This model is the heavy version of Virtus range, able to handle heavy loads and it is the ideal model for the special executions as rolls clamps and platforms also for big capacities.