715 BD
Technical characteristics
Model: 715 BD
Capacity: 1500 kg
Lifting: 4650 mm
Use: Inside
Description
The ability of the operator to rotate the load wheels laterally and the enlarged platform above the load wheel legs enables the movement of long loads and bulky within 2.300 mm aisles.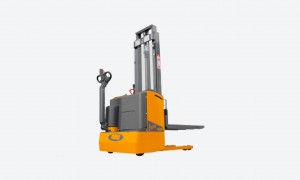 Pallet stackers pedestrian controlled
Technical characteristics
Model: Focus ac Capacity: 1200 kg Lifting: 4650 mm Use: Inside
Description
Lifting heights available from 1.650 mm to 4.650 mm, traction motor and electronic control ensure maximum manoeuvrability and economy during working operations. Thanks to its compact dimensions, it can be used in all commercial fields. Possibility to install a bigger battery capacity (24V 375Ah) for heavy applications.
Technical specifications