715 FS ac
Technical characteristics
Model: 715 FS ac
Capacity: 1500 kg
Lifting: 4200 mm
Use: Inside
Description
Pedestrian counter balanced stacker with Fem forks to handle special loads and pallets (over the euro pallet). Fem forks granting the stacking in the pallet closed way. New technology mono bloc chassis ensuring the maximum reliability also in the worst conditions. Available with special attachments as side-shift, fork positioner, clamp etc…. Lifting heights available from 1.650 mm to 4.200 mm.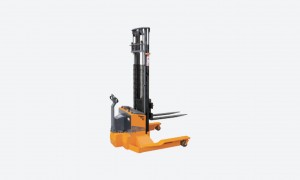 Pallet stackers pedestrian controlled
Technical characteristics
Model: 715 BD Capacity: 1500 kg Lifting: 4650 mm Use: Inside
Description
The ability of the operator to rotate the load wheels laterally and the enlarged platform above the load wheel legs enables the movement of long loads and bulky within 2.300 mm aisles.
Technical specifications