Neos II 16 K ac
Technical characteristics
Model: Neos II 16 K ac
Capacity: 1600 kg
Lifting: 8250 mm
Use: Inside
Description
Reach truck with compact dimensions to work in narrow aisles, the ideal solution for drive-in warehouses. Its chassis only 1.150 mm wide retains the ergonomic features and comfort of the Neos series. The driving place is ergonomic and spacious although the reduced frame dimension. Possibility of installing side guide rollers for guide aisles.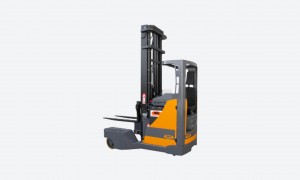 Reach Trucks
Technical characteristics
Model: Neos II 25 4-D ac Capacity: 2500 kg Lifting: 8250 mm Use: Inside
Description
The four-way reach truck named Neos II 25 4-D ac is the ideal truck for long loads handling also in very tight aisles thanks to its extremely compact dimensions and for stacking at high levels. Different traction programs and steering ways are available: standard direction, 360° rotation on its axle, diagonal and lateral directions. Available with wide opening fork positioner to handle long big loads.
Technical specifications