Neos II 25 4-D ac
Technical characteristics
Model: Neos II 25 4-D ac
Capacity: 2500 kg
Lifting: 8250 mm
Use: Inside
Description
The four-way reach truck named Neos II 25 4-D ac is the ideal truck for long loads handling also in very tight aisles thanks to its extremely compact dimensions and for stacking at high levels. Different traction programs and steering ways are available: standard direction, 360° rotation on its axle, diagonal and lateral directions. Available with wide opening fork positioner to handle long big loads.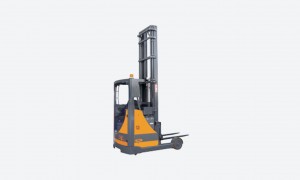 Reach Trucks
Technical characteristics
Model: Neos II 14 ac Capacity: 1400 kg Lifting: 8250 mm Use: Inside
Description
Reach truck. Silent and power ac triphase motors, high visibility masts with lifting heights available from 4.200 to 8.250 mm (standard), integrated lateral shift, tilting on forks holder plate (Tilting Forks), electrical servo-steering wheel, adjustable steering wheel, LCD display, proportional finger tip to control all the unit hydraulic functions. Thanks to its compact dimensions, it can be used in all commercial fields. Possibility to install bigger battery for heavy applications on different working shifts.
Technical specifications